David Byrne: To realize what we've given away, imagine going totally offline. Better yet, believe in what a truly secure online life might look like
… We all know by now that the NSA and the UK's Government Communication Headquarters are reading our emails, listening to our phone conversations, storing our metadata and using our computers and phones to watch us. A bunch of dorky guys amassing huge collections of pictures of tits and dicks. Here they are, hard at work, protecting us: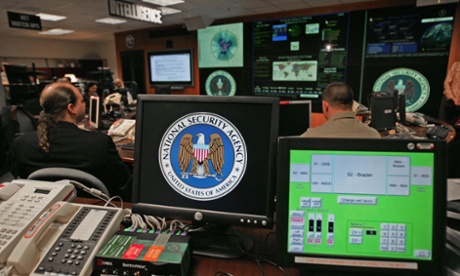 I know I feel safer now! Happy viewing, guys! If we had any doubts before, now we know that the government doesn't trust us – so very many of us – and we certainly don't trust it. …
… Trading our privacy for the convenience of a Google search is not so different from giving up constitutionally protected freedoms in exchange for the "security" that our government claims to offer. At least with Google and other tech services we know we're getting something; whether we actually are more secure because of the NSA's surveillance is an unresolved question. We are frequently told that this indiscriminate data collection has produced valuable results, but those results are "secret," so you'll just have to trust the government. I'm not saying we don't need strong security measures to protect us from lunatics, but this dragnet surveillance has gone way beyond meeting that need.
Cyber thieves, for their part, don't offer the average internet user anything in return – not only that, but they make money selling information about the security gaps they find to the US government. It's an open question whether the government actually wants to patch up those holes and make the internet more secure. For now, it's in its interest to keep these holes open – available for future use, but secret. And we know how good the government is at keeping secrets.
To a lot of folks it appears that the corporations, the thieves and the government are all doing exactly the same thing: the "legal" behavior and the illegal theft are cousins. Spying and cyber theft are not freak phenomena; increasingly, they appear to be unavoidable consequences of online access as it now exists. …